Menu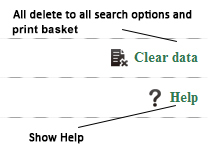 With clicking the Reset button in the Menu, the software going to restore in the original status and delete all texts, settings and print basket.
After clicking on Help button, the help function will be displayed. To close Help function please click on the X icon ("X") in the upper right corner.
Searching
With filling 3 characters into the field Company name or Product/Service the searching function starting automatically. The checkbox activating a new specified filters could be set.
If the searching was success, the result will be appeared in a table below.

The first column shows the name of the company, in the second column is the founding year of the company. The table indicates products or services of the company to export. The results list contains in the following columns the attribution of the company's activities. Then follows the typical export products list.
With the icons on the end of the row the following operations can be performed. With printer icon (
) we can add the company into the print basket for printing later.With "i" icon (
) we can check the company details.
Print basket
In the first column you can find the company name. With "i" icon (
) you can check the company details. With clicking on scissors icon (
) in the end of the row you can delete the item from print basket. With clicking on the printer icon you can print all the content of the print basket.